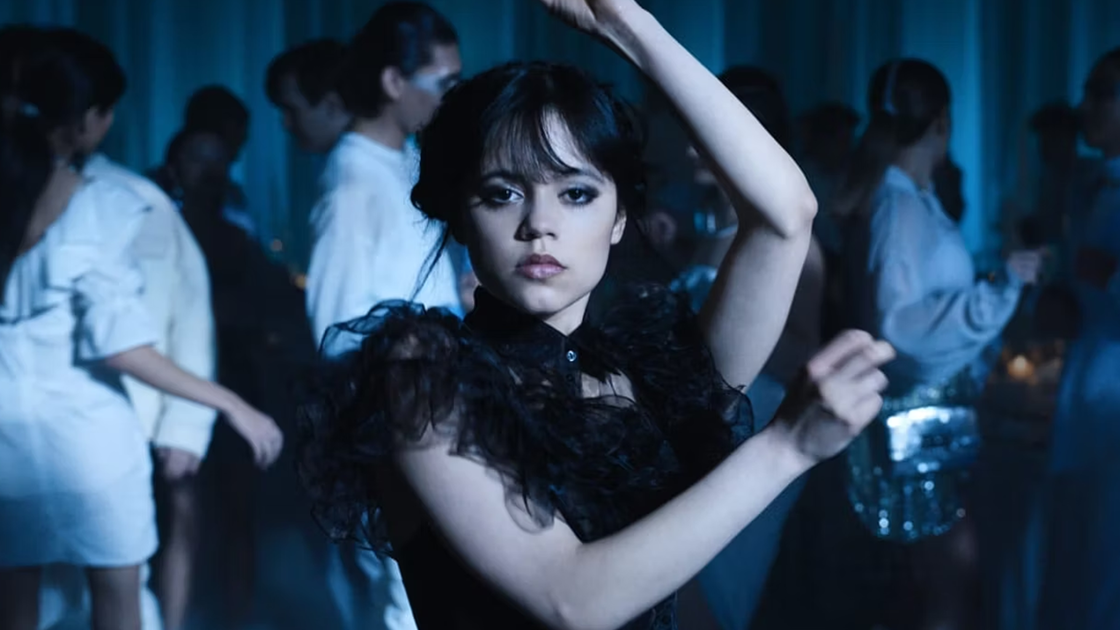 On TikTok, videos of creators imitating the moves of actress Jenna Ortega in a dance sequence that immediately became a cult scene of the TV series Wednesday are depopulating. The show is a Netflix spin-off centered around one of the most famous characters from The Addams Family.
Without going into anticipations about the Season XNUMX finale on Wednesday, it is in the fourth episode, entitled A sad evening (Woe What a Night), that Wednesday drives fans crazy: the young Addams, the most gloomy and gothic teenager of the school, slowly seems to settle at Nevermore Academy, the exclusive institute for outcast kids.
advertisement
The Nevermore School Prom is named after the American writer and poet Edgar Allan Poe's most famous work: The Rave'N.
After an initial obvious reluctance for social events, Wednesday finds herself attending fully dressed in a black tulle dress, thanks to the help of the ever-present and trusted Bro. And this is how, on the notes of "Goo Goo Muck" by The Cramps, Wednesday transforms into the queen of the dance floor showing off dance moves that perfectly suit the character.
The Wednesday Addams dance scene quickly went viral. In particular, it is TikTok users who love the dance moves choreographed by the same actress who plays Wednesday, Jenna Ortega, and to defend them both with videos of affection, but also by imitating them with a penetrating gaze à la Addams. Some have even repurposed it with their own touches highlighting the blend of "weird" and funky.
Wednesday and his bizarre way of dancing are therefore receiving a lot of appreciation on social networks especially from young people, a sign of acceptance towards what is socially embarrassing and strange. The TV series Wednesday immediately became an inspiration for those who feel marginalized. Wednesday's commercial success is, once again, a victory for the values ​​behind the Addams Family.
advertisement
Thanks to Siouxsie Sioux, Bob Fosse's Rich Man's Frug, Lisa Loring, Lene Lovich, Denis Lavant, and archival footage of goths dancing in clubs in the 80's. Helped me out on this one. https://t.co/zlxlv1JUW4

— Jenna Ortega (@jennaortega) November 25st
Ortega stressed in a tweet that the choreography is inspired by the likes of Siouxsie Sioux, Bob Fosse's Rich Man's Frug, Lene Lovich, Denis Lavant and archival footage of goths dancing in 80's clubs. Some fans have glimpsed what similarity with Mia Wallace played by Uma Turman in Pulp Fiction.
In addition, there are many references to the dance of little Wednesday in the TV series The Addams Family of 1964, played at the time by Lisa Loring, and one move in particular is an explicit homage to Gomez by John Astin.
advertisement
Given the popularity, Netflix has released a behind the scenes in which the cast reacts to this now iconic scene.
The cast of Wednesday reacts to *that* dance scene — which @jennaortega choreographed herself! pic.twitter.com/ljos7uWMj8

- Netflix (@netflix) November 25st
The other actors of the cast like Luis Guzmán, Emma Myer, Joy Sunday, Percy Hynes White, Hunter Doohan and Fred Armisen are seen complimenting each other. Myer called the scene her favorite of hers and how both she and Doohan couldn't stop talking about it. Ortega revealed that she choreographed her steps herself although she also admitted that she felt insecure, emphasizing that she is not a dancer.
Wednesday has been streaming on Netflix since November 23, 2022. While waiting for the renewal for season XNUMX, you can check out our Wednesday review.
The cover image of this article is taken from the Netflix TV series Wednesday.