Metallica are promoting the new album Hardwired ... to Self-Destruct, that will arrive in stores on Friday 18 November 2016.
The members of the group were already guests of The Tonight Show on September 30th and, on that occasion, they performed live with the song Moth Into Flame, taken from their 11th release.
advertisement
In this second one, instead, they armed themselves with toy instruments and sang Enter Sandman, song from the 1991 Metallica album.
Jimmy and The Roots also sang and played with them, complete with the band's t-shirt. Unfortunately, Hardwired ... to Self-Destruct will not feature the TV version of Enter Sandman.
In fact, the performance was really enjoyable also because the fans were able to Metallica with colored fifes, trumpets and tambourines.
NBC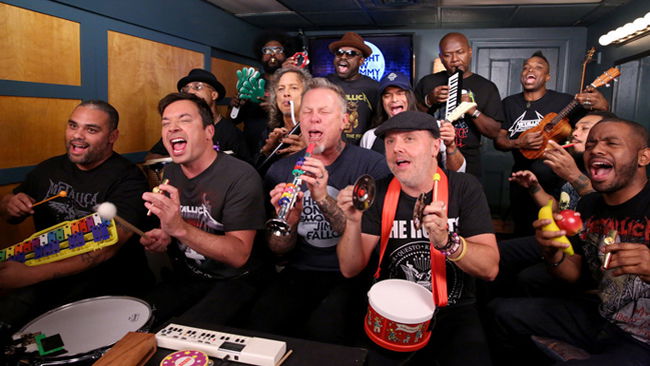 However, it is not the first time that Jimmy offers his personal class of musical instruments and singing.
advertisement
Several guests sang their most famous songs with toy instruments, from Adele to One Direction passing through Meghan Trainor and Sia.
Of course, seeing Metallica's James Hetfield singing and enjoying himself playing a colorful trumpet will have a lot of fans in awe!
If you don't want to miss the funniest moments of the #The Tonight Show, tune in to FOX at 22pm. #Jimmy Fallon is ready to make you smile every night from Monday to Friday.
advertisement