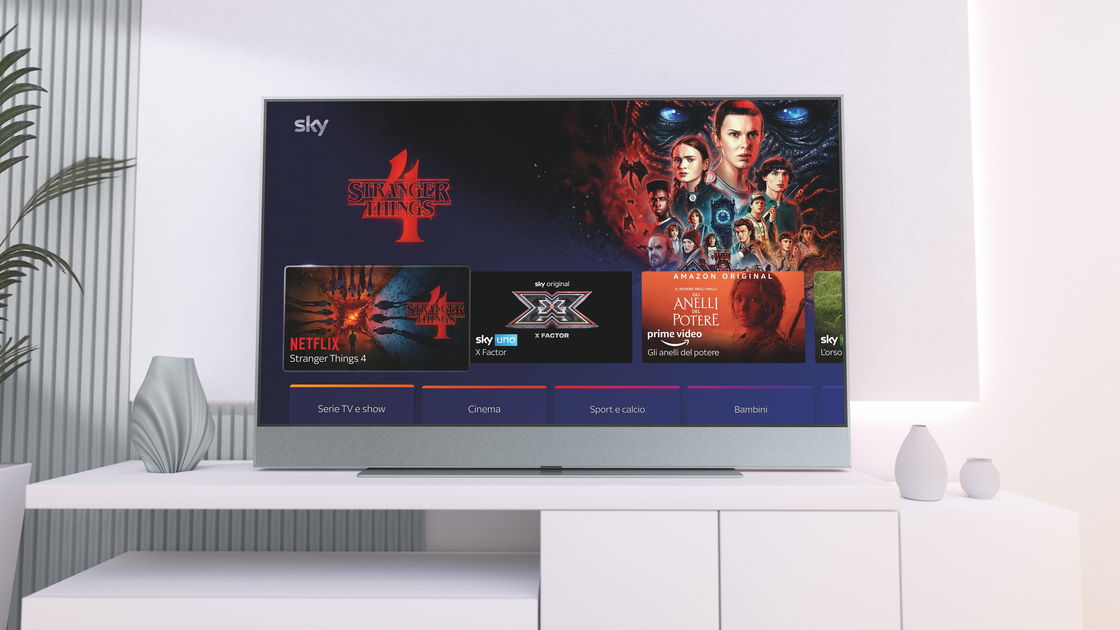 Sky Glass it has also arrived in Italy: but what is this television and what is special about it compared to the others Smart TV already on the market? Sky Glass debuted in Italy in September 2022, almost a year after it was launched on the market in the UK. Let's try to find out point by point what Sky offers, because this new TV is different from the others and above all how much it costs.
What is Sky Glass?
advertisement
Sky
The name offers a very important clue: this smart TV is owned by the Sky group. The main feature of Sky Glass is that the user does not need anything other than the TV to see his favorite programs. This means freeing yourself from the constraints of the satellite dish cable, the dish itself (often difficult to place or subject to disconnections due to bad weather) and the Sky decoder. In short, you just need the remote control or simply your voice to turn on Sky Glass and navigate among the programs, TV series and movies you prefer. With this new TV, in fact, simply say "Hello Sky" to make it turn on. After that you can name the name of an actor, an actress or a movie or even a genre to see the possible viewing choices on all apps. A global research that, to be fair, can also be done with the Amazon Fire Stick.
Why is Sky Glass different from a smart TV?
Sky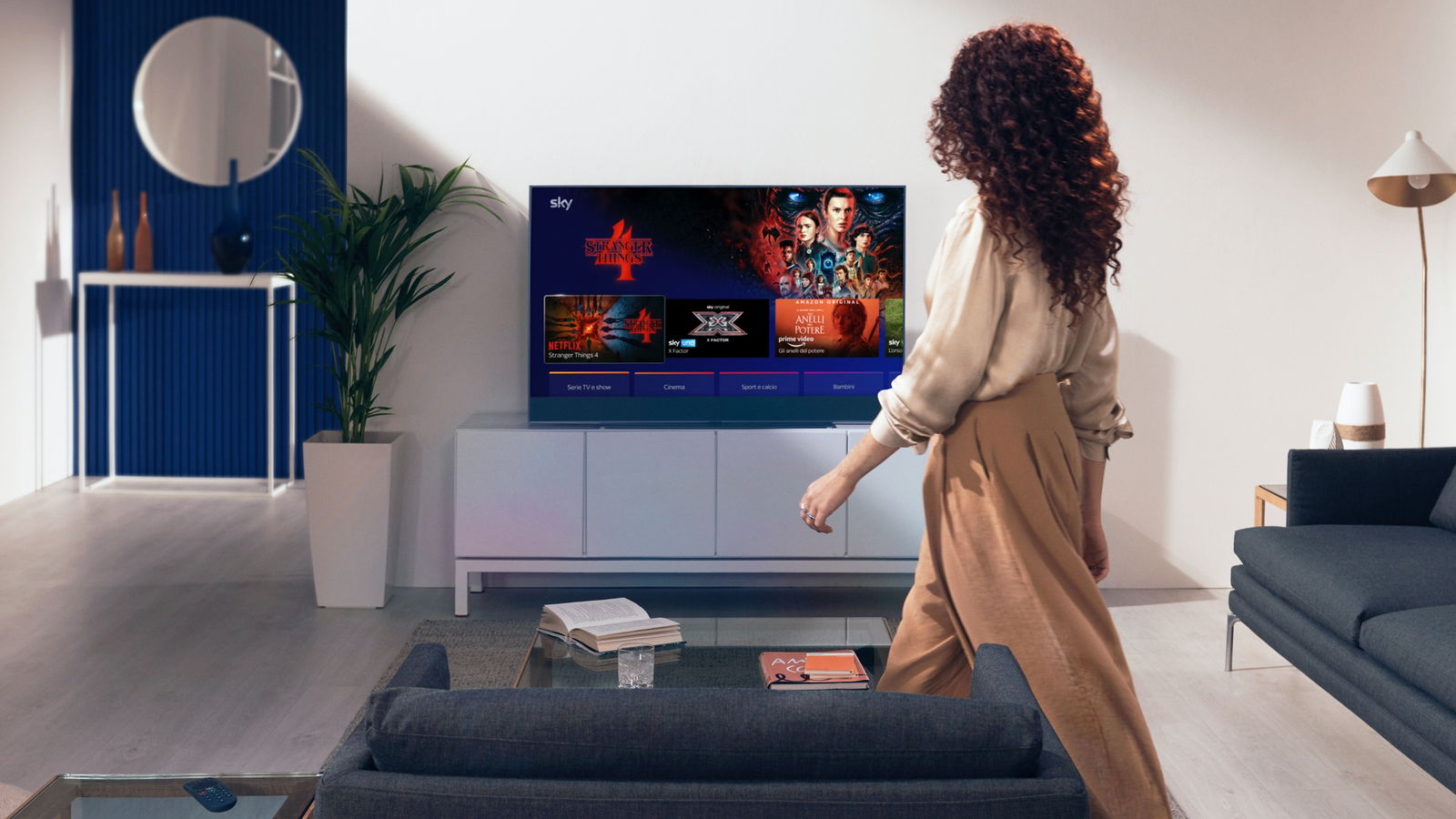 Sky Glass has an advantage over other smart TVs that it shows you all the streaming services you subscribe to in one place. That is, you do not have to switch from one app to another to choose content that is not present in the service, which you are currently using. Let's take a practical example: If you have finished watching an episode of The Lord of the Rings: The Rings of Power series on Prime Video and then you want to see the new episode of She-Hulk: Attorney at Law on Disney + you don't have to close the app of Prime Video to open the Disney + one, because you have everything in the same place. Basically it is like having a single large catalog, in fact you can create a personal Playlist where you can put everything you are following and want to see.
The applications installed are diverse and include Disney +, Netflix, Dazn, YouTube, Paramount +, Prime Video and Apple TV +, among others. However, it is not possible to add third-party applications not covered by Sky Glass. Sky itself has made it known that it will add more apps in the future.
Attention because in addition to the contents that you pay monthly, Sky Glass also shows generalist TV such as the Rai and Mediaset channels, which are however contained in the Sky subscription. Remember that Sky Glass does not need any antenna even if it is possible to connect the digital terrestrial to see, for example, regional channels.
Sky Glass could become the center of your home TV world because it has everything in one device, and I'm not just referring to streaming services, but also a sound system that many smart TVs don't have. Sky Glass has indeed one Integrated soundbar which composes together with the speakers integrated in Sky Glass, including a sub-woofer, a speaker sextet also useful for reproducing audio Dolby Atmos. Sky Glass also has two speakers placed at the top of the screen in order to let the audio come out from above and have the sensation, for example, of the rain falling from above.
What are the features of Sky Glass?
Sky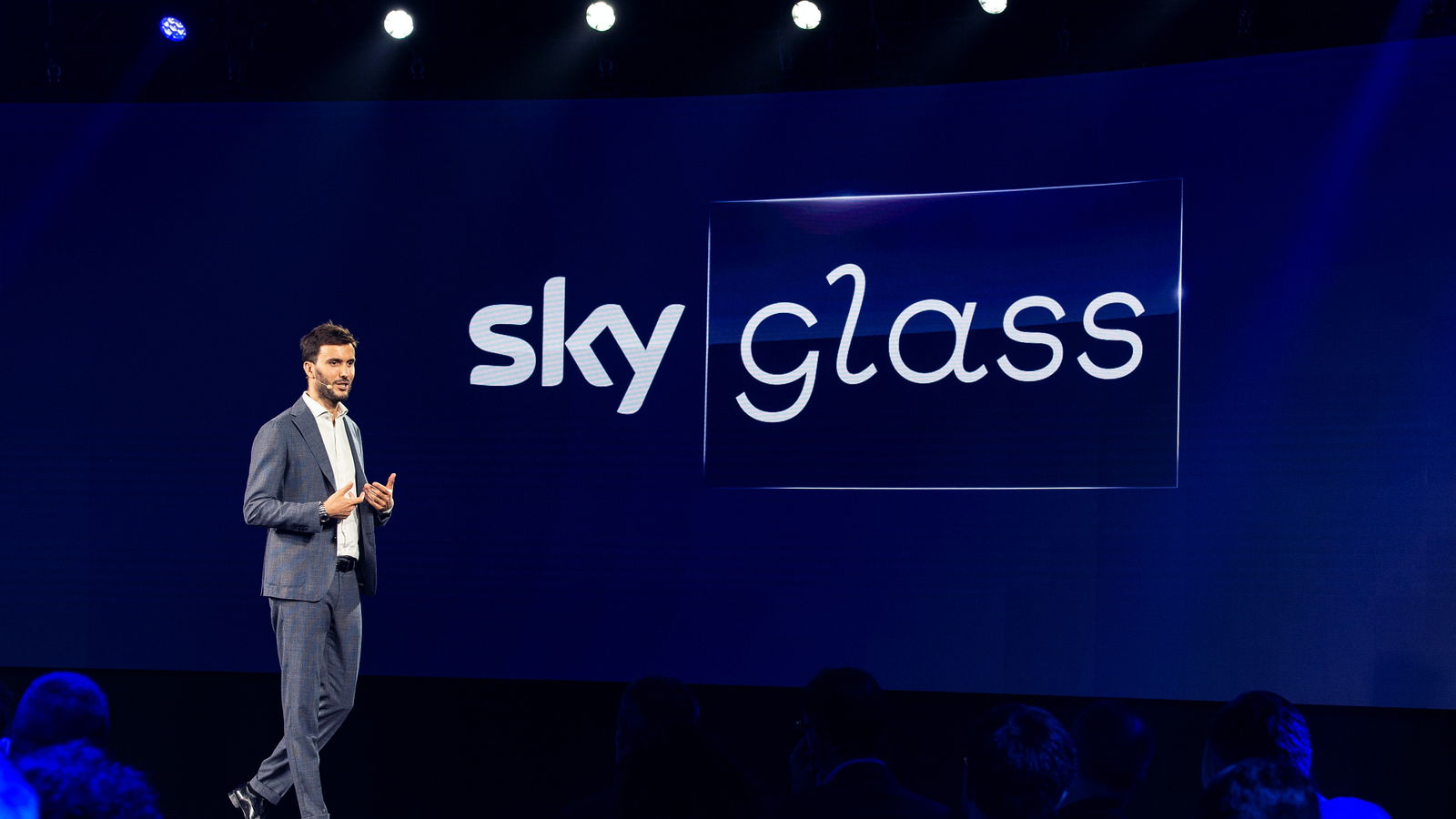 The Sky Glass TV screen is equipped with technology Quantum Dot, which provides better handling of individual pixels (in short: brighter and more vivid colors). Furthermore the Sky Glass screen is a 8,3 million pixel HDR, which guarantees a definition 4K Ultra HD.
advertisement
From the point of view of innovation and respect for the environment, Sky Glass does not seem to be second to none. It is in fact the first CarbonNeutral certified TV. What is CarbonNeutral? It is an acknowledgment from Climate Impact Partners which certifies the fact that Sky Glass has a minimal environmental impact. This is because being an All In One system, including TV, Soundbar and decoder, it saves energy. Furthermore, Sky Glass optimizes the brightness of the screen based on the light present in the viewing room and if not used it goes into standby autonomously. Finally, it is delivered to the customer in a packaging whose plastic is entirely recyclable. According to the data provided by Sky, Sky Glass is able to consume 50% less energy than a "normal" TV.
On the front, Sky Glass is equipped with a motion sensor capable of detecting whether someone is watching TV or not. If Sky Glass is off and the sensor detects motion, the TV turns on. Conversely, after 3 minutes of inactivity on the TV, it switches off to ensure energy savings.
The technical characteristics of the Sky Glass video:
4K screen with Quantum Dot technology
3840 x 2160 pixel resolution with over 1 billion colors
HDR Dolby Vision, HDR10, HLG
The audio features of Sky Glass video:
Speakers 3.1.2 - 4 in front emission including the sub-woofer and 2 in upward emission to create Dolby Atmos
Audio power up to 215W
Sky Glass connectivity
Internet connection via WiFi or Ethernet
Minimum recommended speed for HD viewing of 10Mbps
Minimum recommended speed for UHD viewing of 25Mbps
Only one output cable for the electrical connection of Smart Glass
There is the possibility to connect the digital terrestrial TV antenna
The energy characteristics of Sky Glass:
Power consumption in SDR or HDR (low or high definition) depending on the Sky Glass inches, which can be 43 '', 55 '' and 65 ''. The power consumption in SDR is therefore 66W, 77W, 85W - in HDR it is 79W, 117W, 169W
The energy efficiency class in SDR varies according to the models: for the 43 '' it is class G, for the 55 '' it is class F and for the 65 '' it is class E
The energy efficiency class in HDR is always G.
All Sky Glass models - inches, weights and sizes
Sky

Sky Glass is present on the Italian market with three models and with 5 different colors, namely black, blue, white, pink and green. Each model differs from the other in the size of the screen: 43, 55 or 65 inches. Reminding you that like any other Sky Glass TV it can be placed on the wall or on the stand: the brackets for positioning on the wall and the stand for positioning on a TV stand are both present in the eco-friendly packaging of Sky Glass, here it is below are the measurements and the weight of each format:
Dimension without stand (WxHxD):
43 '': 96.25 x 62.86 x 4.77cm - Weight 14kg
55 '': 123.09 x 78.06 x 4.77cm - Weight 23kg
65 '': 144.98 x 90.37 x 4.77cm - Weight 28kg
Dimension with stand (WxHxD):
advertisement
advertisement
43 '': 96.25 x 63.69 x 21.1cm - Weight 19kg
55 '': 123.09 x 78.89 x 24.8cm - Weight 28kg
65 '': 144.98 x 91.20 x 28.8cm - Weight 35kg
What is the optimal distance to see Sky Glass?
Sky

The best distance from which to view a TV is very subjective. Below we report Sky's suggestions for the best distance to have from the viewing point (the sofa) to the Sky Glass UHD screen divided by inches obviously:
For the 43 '' we recommend a viewing distance between 163 and 210cm
For the 55 '' we recommend a viewing distance between 209 and 419cm
For the 65 '' we recommend a viewing distance between 247 and 485cm
When does Sky Glass cost and where to buy it
Sky
Sky Glass can only be purchased together with Sky Smart's Sky "Entertainment Plus" subscription - which includes Sky TV plus Netflix - even with payment in monthly installments. Sky Glass's payment plans have already been established by Sky. At the time of writing this article and until November 6, 2022, the Sky offer includes:
The 43 '' model can be purchased for € 697 or with an advance of € 25 you can pay 48 installments of € 11,90
The 55 '' model can be purchased for € 995 or with an advance of € 35 you can pay 48 installments of € 17,90
The 65 '' model can be purchased for € 1790 or with an advance of € 45 you can pay 48 installments of € 23,90
All three items also include a 24 installment payment option.
The offer in force until November 6, 2022 provides that the Sky TV + Netflix subscription costs € 18 per month instead of € 30 with a contractual obligation of 18 months. So, if you are already paying for Sky Entertainment Plus (Sky TV + Netflix) you just need to buy Sky Glass, if you don't have a subscription to the Sky service you have to sign a contract of at least 18 months for the Entertainment Plus solution (Sky + Netflix ).
To buy Sky Glass you just need to go to the offers section of the official Sky website.
Can I turn my smart TV into Sky Glass?
Sky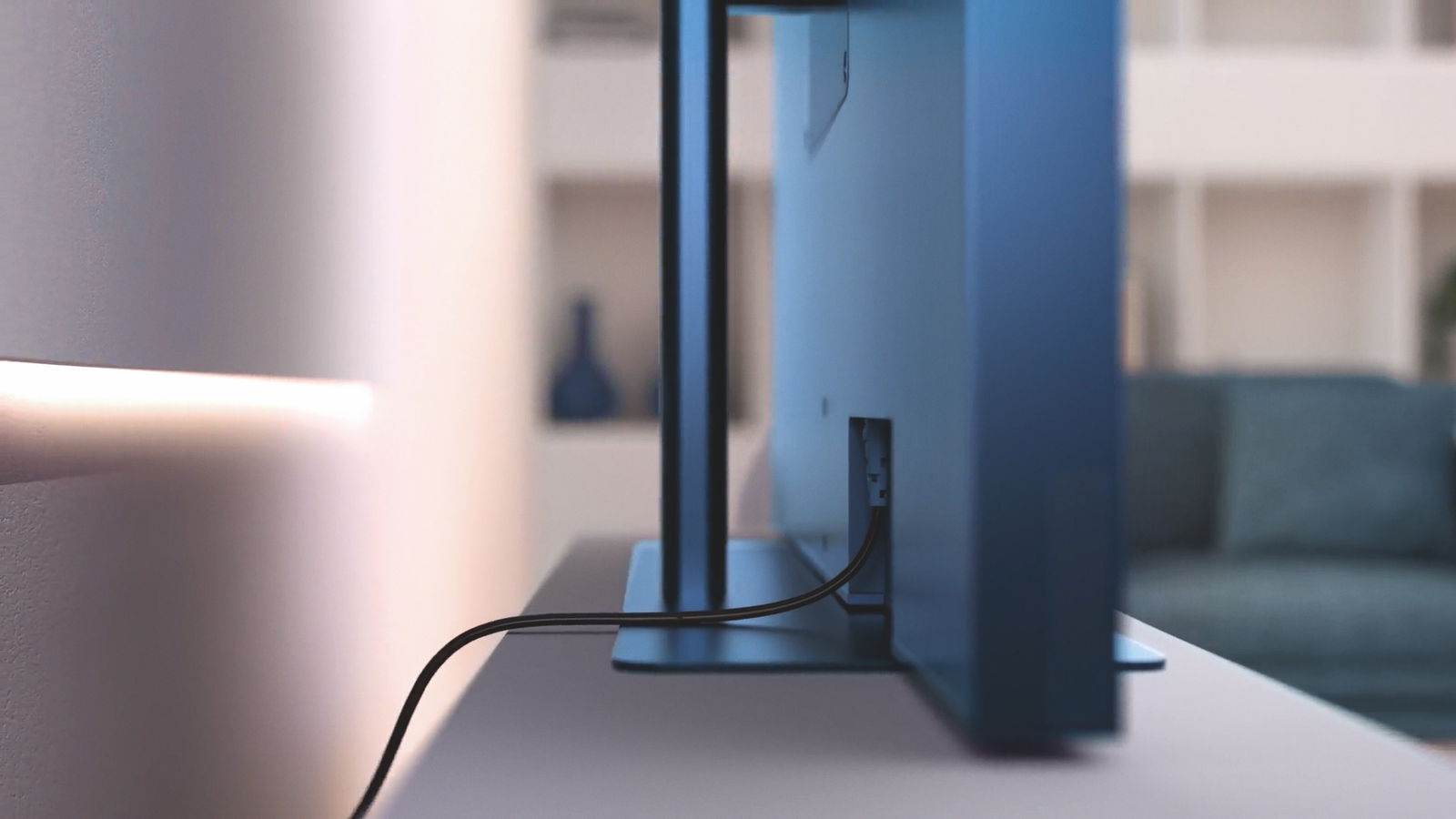 If you buy Sky Glass and place it in your living room but you want to see the Sky and Netflix contents (subscribed with the "Entertainment Plus" subscription) also in the bedroom or in other parts of your apartment, you can do so. Sky puts you in condition to transform the smart TVs in your home into Sky Glass "extensions", obviously your smart TVs will still lack the innovative features of Sky Glass. How to do it? , you have to purchase the option Sky Glass Multiscreen (€ 6 per month), which allows you to watch Sky content on other TVs, and the Sky Stream decoder. But let's go in order:
Sky Glass Multiscreen is an optional service that allows you to view Sky content on multiple televisions connected to the same internet band. It is possible to associate up to 3 Sky Glass (in addition to the first) and 6 Sky Streams connected to different televisions. The Sky Stream is a decoder to connect to your TVs. Its function is to allow other TVs in the house to connect to the Sky Glass functions and to show you, through the Sky Glass Multiscreen service, your subscriptions to streaming services.
Can I see Sky Glass without a Sky subscription?
Sky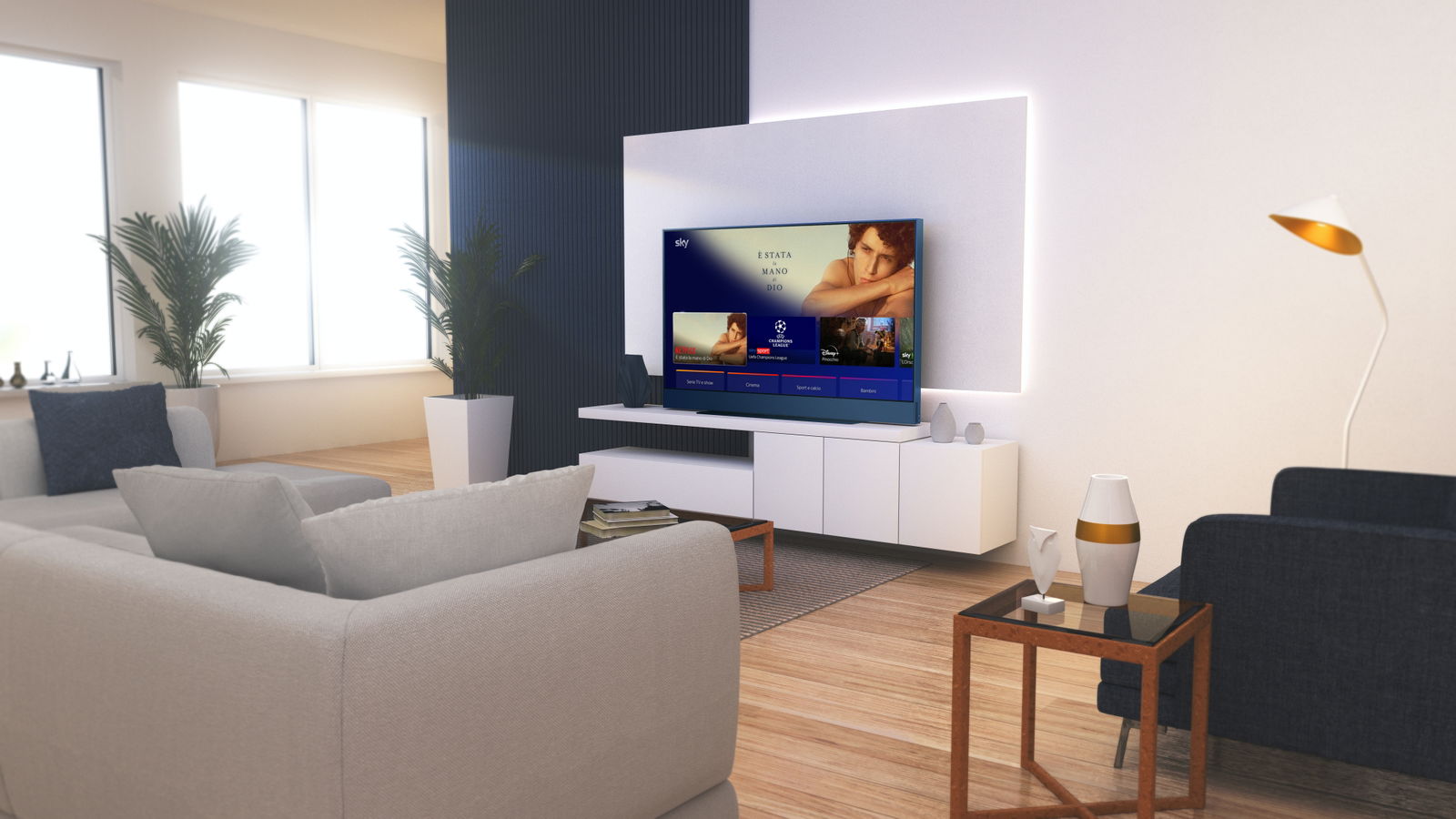 The answer is yes, but some clarifications must be made. The first is that by buying Sky Glass you must simultaneously and necessarily subscribe to Entertainment Plus (Sky + Netflix) for 18 months at the promotional cost of € 18 instead of € 30. At the end of the 18 months the contract is automatically renewed for another 18 months at the current prices unless you send the cancellation to Sky 30 days before the expiry of the 18th month.
If you cancel your subscription with Sky, Sky Glass obviously continues to function as a smart TV with your subscriptions to the various streaming services and obviously continues to have all the technical features that we have illustrated in this article.
How do I upgrade to Sky Glass if I already have Sky Q or My Sky?
Sky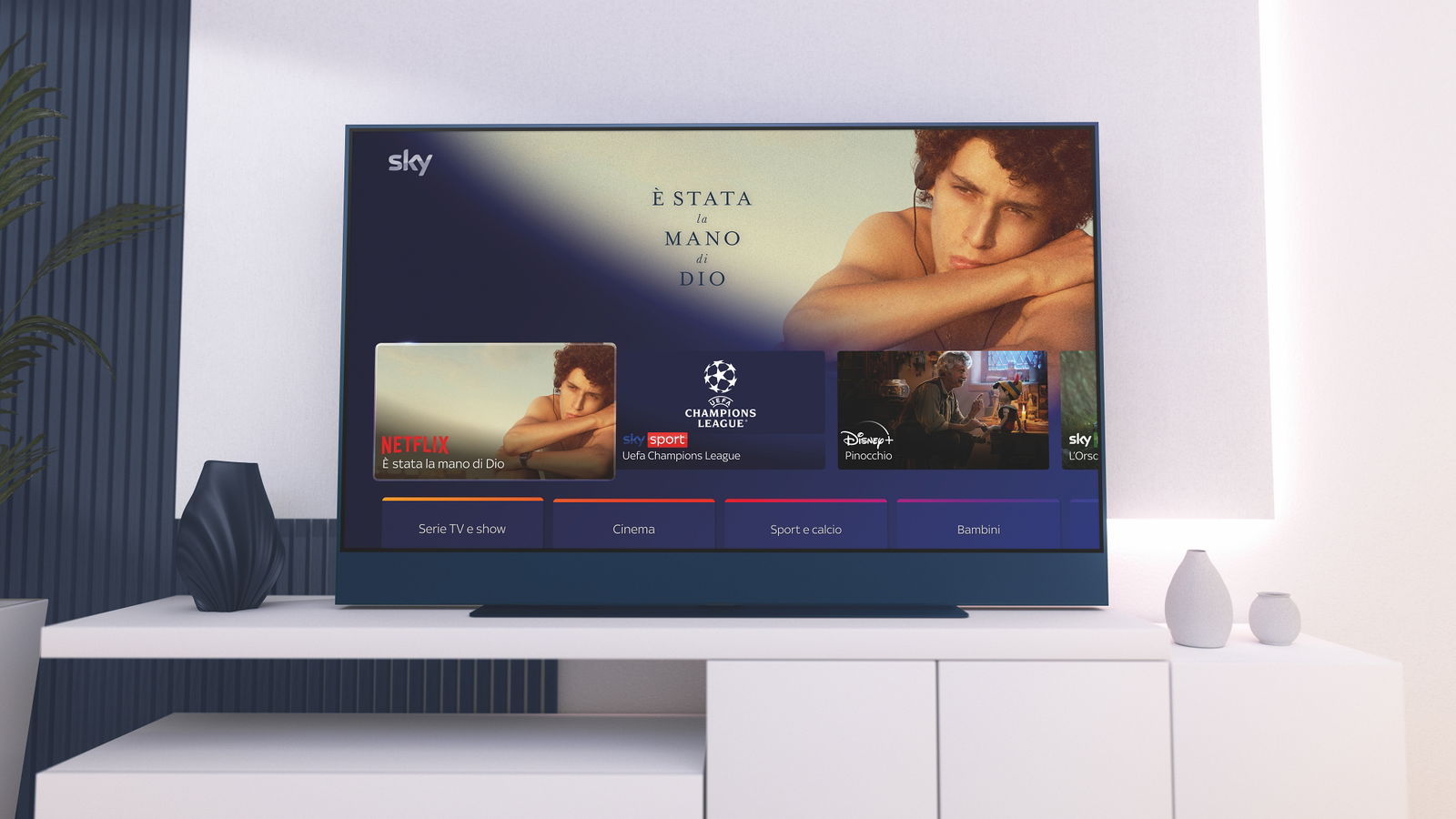 Sky made the switch from Sky Q or My Sky to Sky Glass very simple. If you activate a Sky Glass, your system with Sky Q or My Sky decoder stops working autonomously. Sky customer service will ask for the return of the old decoders to one of the authorized stores. The return includes the decoder, the smart card which is not necessary with Sky Glass, the remote control and the power supply. If they are in your possession you must also return the Sky Q Mini and the Sky Digital Key, in addition to the HDMI cable (the one given to you by Sky, not yours of course).
If you have a subscription instead or in addition Sky WiFi, this will not be interrupted but will be added to that of Sky Glass, as the two uses are different.
In order not to miss any news, subscribe for free to our Telegram channel at this address https://t.me/nospoilerit.