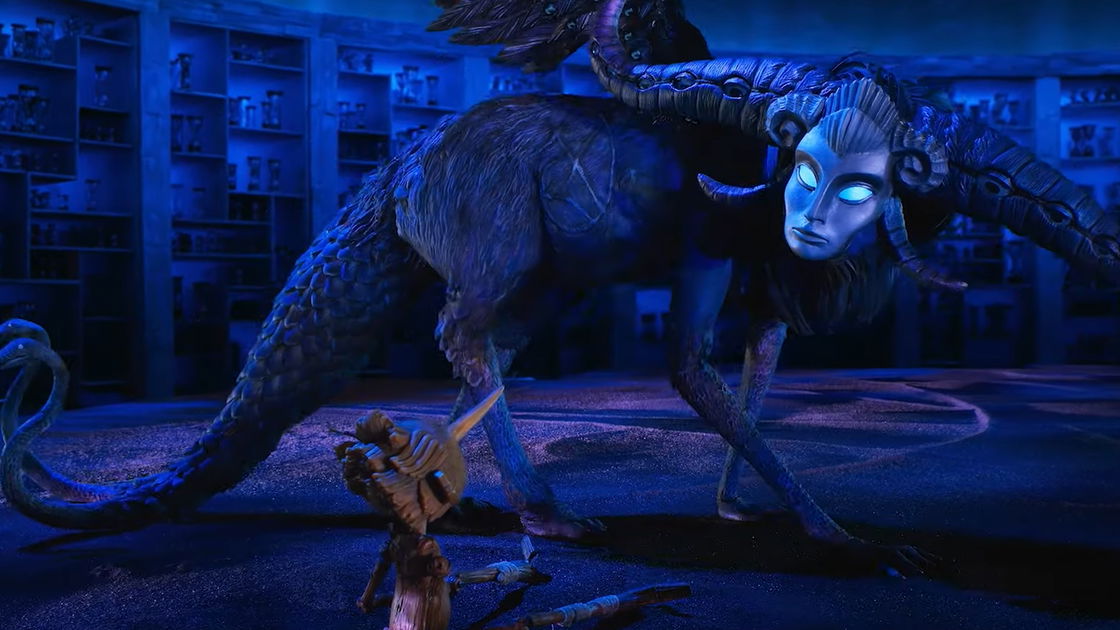 Netflix releases the official trailer of Guillermo del Toro's Pinocchio on November 9, 2022, a surprising reinterpretation shot in stop-motion technique of the classic tale of the same name by Carlo Collodi. Pinocchio by Guillermo del Toro and Mark Gustafson will arrive on Netflix in exactly one month, on December 9th, while surprisingly, it will arrive on 4 December in selected cinemas. Of this highly anticipated film on Pinocchio was released the making-of, led by del Toro himself.
advertisement
Netflix
As could already be understood from the first teaser trailer, Pinocchio by del Toro will be a very dark and moving story . This can be understood from the dark tones and from some phrases pronounced by the protagonists, as in a scene with Pinocchio who, before running away from home, turns to Grillo referring to Geppetto:
You tell him I love him. And that for him I will no longer be a burden.
Cast of Pinocchio by Guillermo del Toro
Guillermo del Toro's Pinocchio film boasts a sensational cast, especially as regards the original American version of the film.
Original voice actors:
Gregory MannPinocchio
Ewan McGregor: Sebastian the Cricket
David Bradley - Master Geppetto
Ron Perlman: The Podestà
Tilda Swinton: Blue Fairy
Christoph Waltz: Count Volpe
Cate Blanchett: Disdain
Tim Blake Nelson: The Don
Finn Wolfhard: Candlewick
John Turturro: Master Cherry
Burn GormanCarabiniere
Italian voice actors:
Ciro Clarizio: Pinocchio
Massimiliano Manfredi: Sebastian the cricket
Bruno Alessandro: Master Geppetto
Mario Cordova: the Podestà
Franca D'Amato: Blue Fairy
Stefano Benassi: Count Volpe
Tiziana Avarista: Spunque
Giulio Bartolomei: Candlewick
The most beautiful images from the Pinocchio trailer
The trailer for Pinocchio by Guillermo del Toro is full of wonder, so we have already selected some that we find sensational.
advertisement
Netflix
Netflix
advertisement
Netflix
Netflix
Netflix
The first differences with Collodi's original story
In fact, from the trailer, they can already be seen many substantial differences from Collodi's original story. For example, we understand that Geppetto has lost a young son in the past, a fact that is not mentioned in the original story of the Italian writer Collodi. In addition, in del Toro's film, Geppetto takes his deceased son's School History book to give it to the puppet Pinocchio; in Collodi's original story, Geppetto sells his jacket for the winter in order to earn the money needed for the abcedario for Pinocchio.
As for the characters, the Blue Fairy is represented in a completely new and unexpected way in this Netflix feature, that is, like a blue sphinx with graceful movements and a mystical and solemn air. A character with ape-like features follows Pinocchio in the trailer of the film, a character that is original and exclusive, not to be confused with the Gorilla judge of the original story of Collodi but with whom perhaps he has something in common. Fire Eater has been replaced with Count Volpe, a new character that is probably a fusion of Fire Eater and La Volpe, who in the original story was paired with The Cat (characters who do not actually appear in the trailer or cast).
Another novelty of the film will be the setting. Indeed, Pinocchio by Guillermo del Toro will be set in the fascist era.