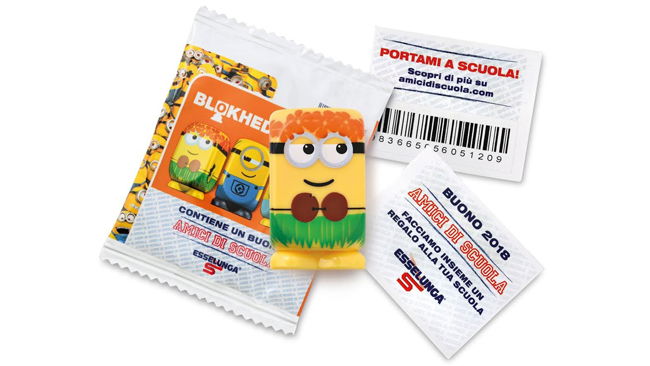 The school is about to reopen its doors and the children have to go back to class, but there is an initiative that could make the return more festive. After the success of Rollinz, Esselunga has decided to cheer up the little ones with a new collection: the Blockhedz of the Minions. What is it about? They are well 18 characters from the Despicable Me saga, available simply by shopping at one of the chain's supermarkets.
The initiative officially starts on September 6 and will be active until October 3, 2018. Esselunga will give away a blockhedz for every 25 euros spent. Not only that, holders of the Fìdaty loyalty card will be able to obtain one of the characters upon reaching 50 Strawberry Points.
advertisement
Together with the sachet, containing the character to collect, the cashiers will also deliver a school friends voucher.
The initiative is, in fact, part of the annual collection of school vouchers with which the supermarket chain has given away 52 million euros of educational and digital material to 10 thousand Italian schools. How does it work? Choose a school from the list of those participating in the initiative and give the teacher the vouchers received with the blockhedz. In this way, the school will be able to request the tablets, computers, printers, books and interactive multimedia whiteboards contained in the Esselunga school friends catalog.
advertisement
The characters and the binder
Hundreds of Esselunga customers in possession of loyalty cards have recently received a nice letter announcing the initiative and read as follows:
It's a dark and stormy night when ... Carl, Mel and Dave hide among papayas and bananas and wait. What big project are they planning? What bad boss are they waiting for? Maybe you! Since if they discover them they risk ending up in the cool, or in some other department of Esselunga, you better catch them first!
The owners of the loyalty card have been able to collect the cute characters from August 27, while all other customers will be able to have them from September 6. The collection includes:
Crane
Lucy
Dru, Gru's twin brother
Pig
Margo
Edith
Agnes
Carl
Dave
Evil
Carl Traveler
Dave Traveler
Jerry
Fortunella
Kyle
Mel Prisoner
Tom Prisoner
Stuart Inmate
The binder at a cost of € 2,90.
Esselunga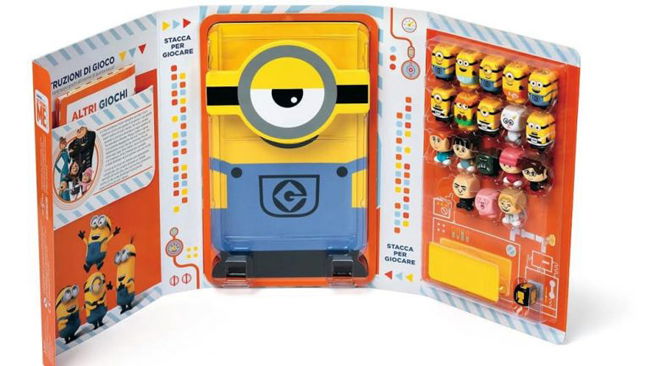 Get ready: September 6th is very close and the Minions are waiting for you and your children!
advertisement
In order not to miss any news, subscribe for free to our Telegram channel at this address https://t.me/nospoilerit.