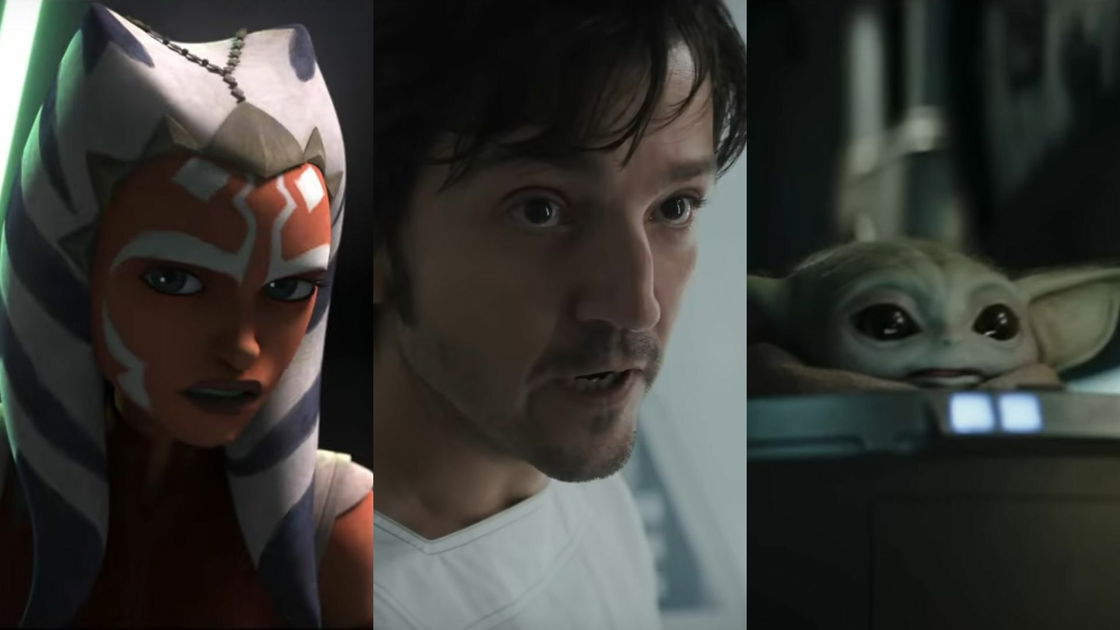 The Star Wars universe is full of novelty, et al D23 Expo a series of exciting announcements followed. If you feel like a disturbance in the Force, don't worry: in this article we collect all announcements, trailers and images of the space universe of Star Wars. The ads are for TV series exclusively on Disney +; there were no announcements about possible feature films.
Andor

"We've all done terrible things in the name of rebellion," Cassian Andor says in the thrilling Andor trailer. This new original Disney + series will hit screens on September 21, 2022 and will be a prequel to the events of Rogue One: A Star Wars Story 2016. To learn more about this show that promises great emotions to the public, you can read our article on the Andor trailer at D23 Expo.
You can also consult our article with the Andor episode calendar.
Release: September 21, 2022
advertisement
Tales of the Jedi

If Ahsoka, Anakin Skywalker, Count Dooku, and Mace Windu can be seen in the same trailer, happiness is around the corner. This animated series of six short films promises lots of action and spectacular scenes. To know more you can read our article on the Tales of The Jedi trailer from D23 Expo.
Release: 26 October 2022
The Bad Batch second season
2023 will open with the second season of Bad Batch, January 4 on Disney +. The plot of this animated series will be about Clone Force 99 and their new member Omega, following them as the Empire begins its reign.
Release: January 4, 2023
advertisement
The Mandalorian third season

In the beautiful trailer for the third season of The Mandalorian Baby Yoda and Din Djarin are side by side, ready to live new adventures. How will the plot develop now that Djarin has shown his face? You can find out more details in our article on The Mandalorian 3 trailer.
Released: 2023
Ahsoka
Ahoska will feature lean into the lore and will feature lightsaber battles. # D23Expo pic.twitter.com/Q7GQksQ3nu

- Matt Ramos (@therealsupes) September 10, 2022
Official concept art from Ahsoka. # D23Expo pic.twitter.com/3IDS2V9vz6

- Matt Ramos (@therealsupes) September 10, 2022
These two tweets from Matt Ramos show two images from the Ahsoka series, presented at the D23 Expo. Rosario Dawson plays Ahsoka, star of the live-action series of the same name. Alongside her we also find Sabine Wren, and on the show the two will be looking for Ezra Bridger. Sabine is played by Natasha Liu Bordizzo. The Ahsoka series will be in direct continuity with the animated series Star Wars Rebels, available on the Disney + platform.
Released: 2023
Star Wars: Skeleton Crew
First look at Jude Law in Jon Watts 'STAR WARS: SKELETON CREW'. # D23Expo pic.twitter.com/RGG2n790HM

- DiscussingFilm (@DiscussingFilm) September 10, 2022
This Discussing Film tweet tweet features an image of Jude Law in the Star Wars: Skeleton Crew series, unveiled at D23 Expo. Law is the lead actor in this new Disney + exclusive series.
Directed by Jon Watts, the Star Wars: Skeleton Crew series is all about
a group of children lost in space
. Watts is known for directing Spider-Man: Homecoming. It hasn't been stated which month the show will be out in, but the year will be 2023.
Released: 2023
Star Wars: Young Jedi Adventures
advertisement
Incoming transmission. Jamaal Avery Jr. and Emma Berman star as Kai Brightstar and Nash Durango in Star Wars: Young Jedi Adventures coming in 2023. pic.twitter.com/iAz6GkGdlx

- Star Wars | Andor & Tales of the Jedi On Disney + (@starwars) September 10, 2022
A delightful image from the official Star Wars Twitter page takes us into the world of the animated series Young Jedi Adventures. Scheduled for 2023, the series seems to be designed for a children's audience, but will likely win over many adults as well.
Released: 2023
In order not to miss any news, subscribe for free to our Telegram channel at this address https://t.me/nospoilerit.