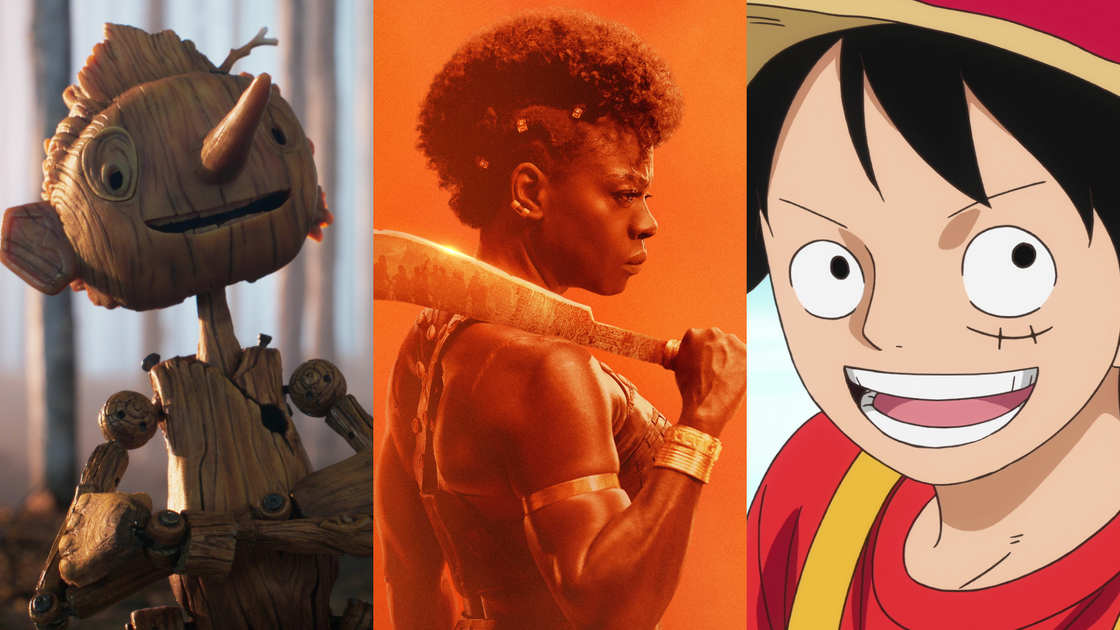 With the arrival of December, the high season of cinema releases begins: 2022 will close with four weeks that are truly full of films that deserve to be seen on the big screen. The one coming in particular is a round of films that will make animation lovers happy, with two major films in theaters starting Thursday 1 December 2022.
In fact, Del Toro presents his Pinocchio in stop motion on the big screen before landing on Netflix, while the latest One Piece feature film, a blockbuster in Japan, finally arrives with Italian dubbing. Between films to see at the cinema on the weekend between 1 and 4 December 2022 there is also a really surprising Christmas-themed first release and a blockbuster starring a very fierce Viola Davis.
advertisement
Here are what they are the best films to see at the cinema this weekend and why:
Pinocchio by Guillermo Del Toro
Destroyed by the loss of his son Carlo, on a stormy night the carpenter Geppetto creates a wooden puppet that will come to life. It will not be easy for Pinocchio to learn to distinguish what is right in an Italy dominated by fascism.
Why see it? Guillermo Del Toro has dreamed of directing it for years: his stop motion Pinocchio is truly a masterpiece of animation, one of the recent adaptations dedicated to the puppet that best know how to maintain the original spirit of Collodi's writing, giving new life to a timeless story . Proudly anti-fascist, sinister, at times a little gothic, this Pinocchio is a child of del Toro's imagination and one of his best works ever. To know more you can read the review of Pinocchio by Guillermo Del Toro.
One Piece Movie: Red
advertisement
The Straw Hat crew takes a break to attend the concert of the talented singer and idol Uta, an old childhood acquaintance of Luffy and daughter of Red Shank. Despite her birthplace, the idol harbors a deep hatred towards pirates and is determined to create a new world without them.
Why see it? Blockbuster in Japan, the latest film in the One Piece universe finally arrives in Italy with excellent distribution, screened both in the original language for purists and with excellent Italian dubbing. An unmissable event for fans of Japanese animation. Read more the review of One Piece Film: Red.
A violent and silent night
Senator Lightstone's very wealthy family gathers to celebrate Christmas Eve, unaware that a group of thugs plan to burglarize their palatial mansion. However, the robbers have not come to terms with a tired and disheartened Santa Claus, who however never fails in his mission to help those in need and who believe in him, like little Trudy Lightstone.
Why see it? From the sheriff of Hawkins to reindeer sleigh, David Harbor gives a convincing performance as an angry, disheartened and alcoholic Santa Claus, who never betrays the spirit of Christmas. Watch out though: the film is yes, Christmas, but also particularly violent, therefore not suitable for children.
The Woman King
advertisement
At the head of the fearless Agojie warriors, Nanisca tries to ensure the survival of the kingdom of Dahomey in seventeenth-century Africa, between rival tribes and power games of white slavers.
Why see it? The Woman King fictionalizes a historical story based on the group of African warriors who inspired the creation of Black Panther's Dora Milaje. The film, full of action and fighting, is in turn a blockbuster, led by an unstoppable Viola Davis and in the odor of Oscar nominations.
Franco Battiato - The Master's Voice
The musical genius and ironic character of Franco Battiato is reconstructed in the documentary by Marco Spagnoli, which traces his career and the works that have marked the path of Italian music.
Why see it? Because the human and artistic story of Franco Battiato, one of the most brilliant and prolific songwriters of the Italian musical twentieth century, is capable of emotional and reflecting and deserves to be known. Furthermore, Spagnoli has collected exceptional video material and testimonials from Battiato's colleagues. For lovers of Italian music is a doc not to be missed.
The cover image of this article is taken from Netflix's Pinocchio, Sony's The Woman King and Anime Factory's One Piece Film Red